[dropcap]T[/dropcap]his formula provides specific nutrients that protect and assist the liver in carrying out its crucial functions related to digestion, detox, and energy production. (Liver Detox)
[list type="tick"][li]Milk Thistle is a common herb containing the active ingredient silymarin, a powerful liver protective compound with antioxidant properties. Silymarin helps the liver work more effectively through three primary actions: 1) by preventing harmful toxins from entering cells, 2) by serving as an antioxidant that interrupts the course of free radical damage, and 3) by stimulating regeneration of damaged liver cells.[/li] [li]N-Acetyl-L-Cysteine (NAC) is an important antioxidant with the ability to increase glutathione, a crucial antioxidant produced in the liver that deactivates free radicals. NAC is also used by the liver to help neutralize toxins from environmental pollutants and waste produced by the body.[/li] [li]Alpha-Lipoic Acid plays an important role in the generation of cellular energy and has the unique capability of providing antioxidant protection within both the fat and water portion of cells. In addition, alpha-lipoic acid increases the effectiveness of other antioxidants, such as vitamins C and E, all used by the liver to deactivate free radicals.[/li] [li]L-Methionine and L-Cysteine are two amino acids used by the body to increase glutathione levels and provide support against harmful toxins. L-cysteine is also needed for the synthesis of taurine, another amino acid utilized in detoxification pathways.[/li] [li]Taurine can be synthesized within the liver from L-cysteine and L-methionine and is involved in several detoxification pathways. It is an important amino acid with the ability to deactivate toxins.[/li] [li]Trimethylglycine, also known as betaine, has been shown in clinical studies to be effective against the development of a fatty liver that can occur with the ingestion of alcohol. It is also a key methyl donor, a compound needed for many biological reactions.[/li][/list]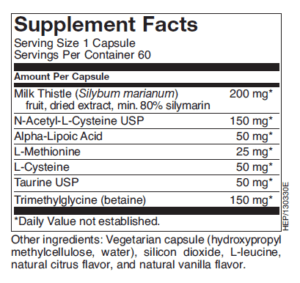 This dietary supplement may be useful for individuals who wish to naturally enhance liver function with protective and antioxidant nutrients. Taking this product together with a multiple vitamin/mineral supplement is suggested for more comprehensive support of liver function. This product is free of the following common allergens: milk/casein, eggs, fish, shellfish, tree nuts, peanuts, wheat/gluten, corn, yeast, and soybeans. Contains no artificial colors, flavors, or preservatives.
Suggested Use: 1 capsule twice daily.
This product was made in a GMP and ISO 9001:2008 registered facility.
---
Disclaimer: The information contained in this document is for educational purposes only and it should not be followed without first consulting with a healthcare professional who is knowledgeable about CAM (Complementary/Alternative Medicine), Integrative and/or Orthomolecular Medicine. If you have any known medical or psychiatric disorder you should first follow the recommendations of your healthcare professional before taking nutritional supplements. The statements contained in this document or presentation have not been approved by the Food and Drug Administration (FDA).